| | |
| --- | --- |
| Model Number | CXJ-TOP1012 |
| Material | Bagasse pulp |
| Size | 26*18*3.2CM |
| Weight | 36.5g |
| Color | Customized |
| Packing | Customized |
| Artwork | JPG, PDF, AI, EPS format etc and accept custom design |
| Scene | Packing, Store |
| Feature | Packing, Store |
---
One of the most common takeaway packages is the paper egg carton, and these products are the best of them. The paper egg cartons are replacements for plastic egg crates, and they are eco-friendly. You can find various types of cardboard egg cartons for sale on the market. However, for the best experience, you should use only top-quality egg cartons made from paper.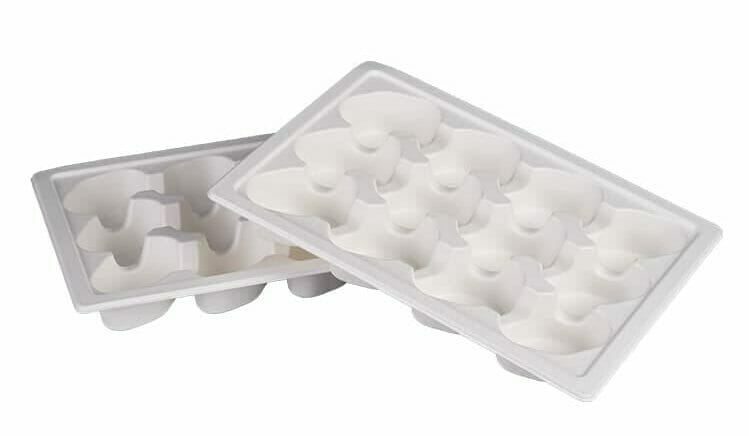 These egg cartons are used for storing and selling duck eggs and chicken eggs. Also, you can use the pulp egg cartons for weeks if you do not need to consume the eggs immediately. The egg cartons are secure and can be branded, so you can print a custom label on the cartons. Also, the orders shipped are secure and can reach different geographic locations.
Why You Should Buy Paper Egg Cartons
The paper egg cartons are recyclable. The eco-friendly cartons are excellent for the environment, and they can stay intact during shipping. Also, the eggs will hardly crack in the egg carton because the interior paper part is not too hard. It provides the best cushion for the eggs in the carton.
Where to Buy Paper Egg Cartons
You can buy these cartons of eggs in bulk from our company. We have the resources to ship all the items you need following specific information for your stock order. The biodegradable cartons we sell can accommodate branding prints and provide an easy way for egg storage. We also sell at the best price, so you can send us your inquiries or order the pulp egg cartons.
The minimum order quantity for these paper egg cartons is 1000 pieces. This is an ideal number which is great for people who would like to buy and invest in them, for resale to the end users. The profit margin is also excellent, so you should contact us soon to know how we can process your order and ship it to you.
Product Category – Paper Egg Cartons
Here are the different features of the egg cartons we have in stock for the customers:
Material Used for Production
The egg cartons are made from bagasse pulp which makes them among the best pulp egg cartons you can find on the market. The carton design is flawless and can ship to any location. The bagasse pulp is sourced from the best companies and is best for cartons that may need to be shipped to customers in different places.
Carton Size
These products have similar dimensions to cardboard egg cartons. They measure 26 x 18 x 3.2 cm. This makes the carton perfect for chicken eggs. The carton size makes them perfect for packaging fragile eggs.
Carton Weight
The weight of these cartons is given as 36.5 g, which is perfect for packaging all types of eggs. The carton weight is also good for customers who want to buy in bulk. The lightweight design means there will be lower shipping fees.
Carton Color
The carton color is neutral, a brown shade commonly associated with paper carton packaging. However, you can order these products in customized colors to meet your audience's needs. The best colors for the carton should help enhance that branding and any sign printed on them, even after they are recycled.
Printing formats for these products can be done in PDF, JPG, AI, and other media formats for printing on consumer packaging products.
Use Case
You can use these egg cartons in retail shops, poultry farms, and other places where eggs need proper storage. The cartons are secure and easy to carry from one location to another.
The minimum order quantity for the egg cartons is 1000 pieces, and the production lead time is from three weeks, which is convenient.
Order Egg Cartons in Bulk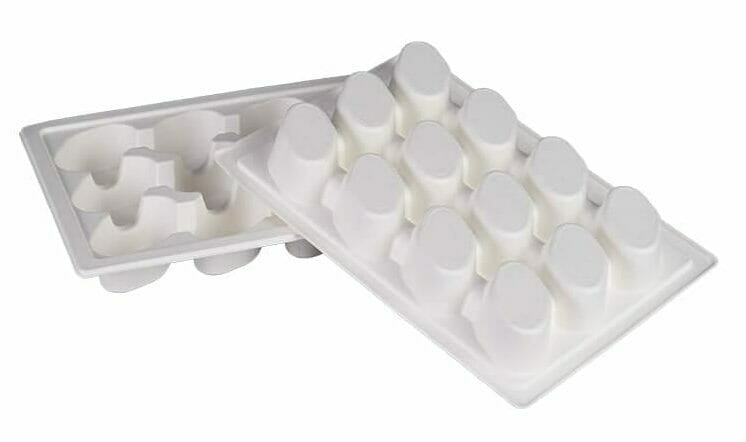 Send us your requests for bulk orders through a customer contact form. You can also ask questions about buying wholesale. We will reply with details on how to proceed and get these high-quality egg cartons for your market audience.